Our Entertainment Division - using expertise gleaned from our work in online games since our company's founding - develops and manages PC, smartphone, and console gaming titles in addition to running the gaming platform LIONGAME.
▼Portal Site
LIONGAME

Online Gaming Portal Site offering Free Games to play!

Portal Site
▼Game Title
Shojo To Dragon

- Genju Keiyaku Cryptract -

Fully-Fledged Fantasy RPG

PC

Official Site

Sora Nova

Browser RPG Celebrating Love Eternal

Official Site

Hexa Wars

Tactical Simulation RPG

Official Site

Our Lifestyle Division - focusing on the "creation of recreation" - helps support our customers in their leisurely pursuits through planning, development, and management of PC, and smartphone content.

First of its Kind in All of Central Tokyo! Joint facility featuring drone flight practice space and hands-on showroom

Presently, almost everywhere in Tokyo requires a permit to fly drones outdoors, and in addition to that, in order to apply for a permit, registrants are required to have over 10 hours of daytime and nighttime flight practice. The Lionsfacility drone flight practice space is the first* of its kind in central Tokyo**. Novice drone pilots with only a little experience under their belts are welcome to come use our facilities. And, as the facility is indoors, drone pilots can also practice flying at night. Our drone flight practice space includes areas for visitors to observe drone flying, a charging station for batteries, and a maintenance space.

*According to data compiled by Lionsfilm Co., Ltd. As of June 29, 2016
**Registered as a space where drones can be flown under MLIT, Kokkuukou Dai 2257 Gou, Kokkuuki Dai 2389 Gou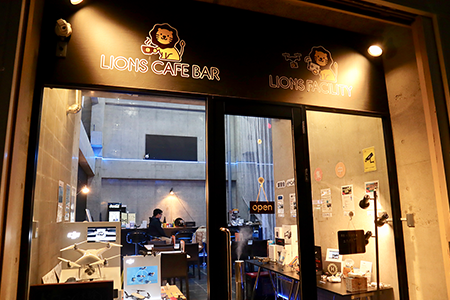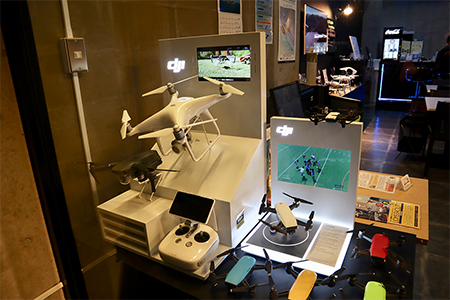 In our showroom, customers who have never even seen much less touched a drone can try their hand at test flying the latest drones on the market. Customers who are thinking about purchasing drones can also take them for a spin around the showroom as well.

At Lionsfacility, we regularly hold seminars on drones and provide consultations to individuals and businesses who are looking to either shoot footage from the air with their drones or are otherwise looking to use drones to help expand their business.

We also hold courses (both in free and paid varieties) that go over the necessary, important points pilots and drone owners will need to know in order to apply for flight permits from the Ministry of Land, Infrastructure, Transport, and Tourism (MLIT) on a regular basis, allowing those without a fundamental knowledge of drones to get over that first major hurdle towards better understanding the industry while also providing a safe environment for pilots to practice flying their drones. For corporate clients, we provide the education necessary for employees to function in a business dealing with drones, help prepare them for taking drone certification examinations, and can serve as a surrogate when applying for drone flight permission, providing total support for all your drone needs.